Thank you for visiting DataRide.Net. We are proud to offer a unique product. We have developed a highly automated data translation and forwarding service. We are happy to convert a file for you one time. However, if you need to do it more than once, we have a better way. You don't have to write or buy conversion programs you never pay off. You don't have to pay us or anyone else the same price as you did the first time. You don't have to pay for a person at all.
To illustrate the process, let's say you make seat covers. You just won a contract from a major car company. They want to send you DELJITs and get ASNs from you. You don't know what they're talking about. Your system can accept orders and send out shipping notices via email. Does this help?
You bet it does! The supplier can send us their DELJIT transactions, and we send you order emails. You send us shipping notices, and we pass on ASNs. Do this once a week, once a day, or twice an hour. We don't care. No one here has to touch it.
Your computer talks to our computers. Our computers talk to theirs. All this, in near real time or buffered and accumulated as you may require. You don't even have to use the same communications methods. One side can use ftp, and the other can use email. Whatever you need. We make it all transparent.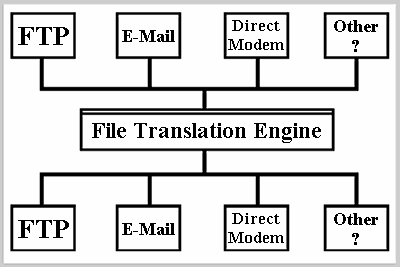 We make it economical too. Because our advanced translation engine can automate the process to a high degree, our processing costs are very low. Most translations are performed for a cent or less. Even files as small as 100 records. Our programming rates are low too. Even if you only need a one time conversion, our total project cost is lower than anyone we know.
Packing slips, shipment notices, mailing lists, tracking numbers, inventory updates, purchase orders, requisitions. Whatever you want to talk about, we can help make them listen.
ASCII, EBCDIC, Tab, Comma, DBF, MDB, XLS, XML, X12, EDIFACT, Async, BiSync, FTP, HTTP, XMODEM, YMODEM, Zip, PGP, gz, sit. However you say it, it makes sense to us.
Please follow the tabs to the left for further information, and other examples of our process. The tabs above lead to other BrainBridge Systems divisions that provide programming, systems design, machine repair and engineering services.
Thanks for coming by!